RECORDED WEBINAR

PRODUCTS BY CATEGORY
VIEW PRESENTATIONS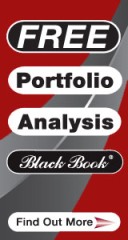 MARKET REPORTS
In short videos, Ricky Beggs, vice-president and managing editor of Black Book, discusses the current market.
Put your auto loan program in the fast lane
Black Book's vehicle pricing information will help you get there faster.
For timely, independent, and accurate vehicle pricing, there's nothing like Black Book. For more than 12 years, CUNA has partnered with Black Book to provide credit unions with the right vehicle answers, right away.
Take advantage of integrated data solutions and analysis at a greatly discounted price. Use Black Book's information to:
Let members access the trade-in and retail values directly from your credit union's website
Better understand which segments of your loan portfolio have the greatest risk and the most opportunity
Properly price auto loans and increase your yields
Quickly access vehicle values during the loan process
PRODUCTS AND SERVICES OFFERED:
Consumer Services: Add Black Book's vehicle values to your credit union's website. You can control the look and feel, while providing a valuable service to your members.
Portfolio Valuation: Use ValuEngine to analyze your portfolio. With ValuEngine, you can value your historic, current and residual portfolio in real time, as often as you'd like. Learn more and request a free analysis at freeporfolioanalysis@blackbookusa.com
Custom Portfolio Analysis: Understand the areas of risk and opportunity in your loan portfolio. Based on your business needs, Black Book can analyze your current portfolio and provide a summary for your review. Request information.
Black Book Subscriptions: Look up values online or in print.
Online: The Internet Suite is updated weekly with valuations for used cars, new cars, heavy-duty trucks, motorcycles, exotic and older cars, plus VIN identification and historical valuations.
Print: Subscribe to a wide range of guides.
To learn more and subscribe call 800-367-3759.
Black Book® is a registered trademark of Hearst Business Media Corporation. © 2011 Hearst Business Media Corporation. All rights reserved. Patent pending.